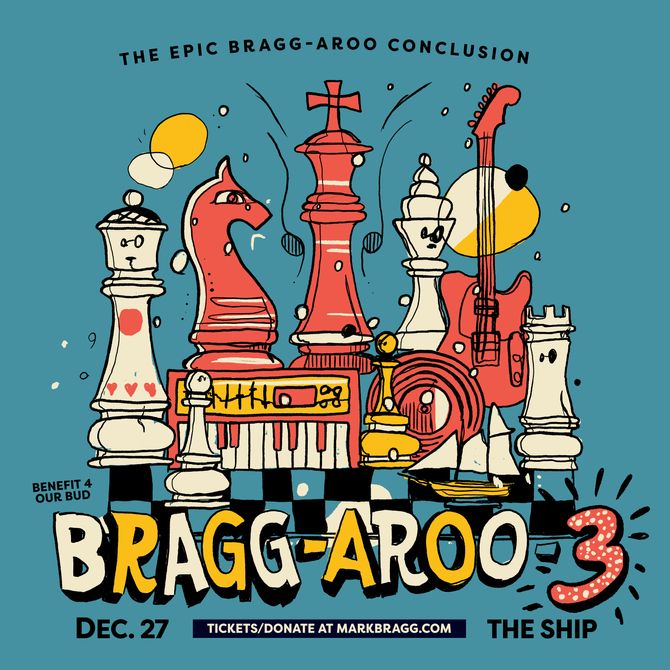 Dec 3  SOLD OUT - Doors will be at 7pm, show will start at 8pm.
Confirmed artists: The Once, Rube & Rake, Pam Morgan, Colleen Power
Dec 26  SOLD OUT- Doors will be at 8pm, show will start at 9pm.
Confirmed artists:  Luke Major, Swimming
Dec  27 TICKETS NOW ON SALE - Doors will be at 8pm, show will start at 9pm.
Confirmed artists: Sherry Ryan, Sean Panting, The Navigators, The Domestics, Tim Baker
ABOUT BRAGG-AROO
A who's who of St John's musicians will gather at The Ship Pub on December 3 to sing the songs of Mark Bragg in a tribute show called Bragg-aroo.  The local songwriter, rabble rouser, and musical mentor-to-many has been a staple of the province's music scene for more than twenty years. The performance will be both an homage to his weighty and influential song catalogue, and a benefit to help with rehabilitation costs after a recent health setback.
As someone who has been living with epilepsy since 2019, Bragg was used to feeling as if the world could change in the blink of an eye. Earlier this year, a few days after his slam-dunk sold-out 'Ashes' album release show, Mark suffered a devastating brain bleed, leading to several months of intensive care and a challenging healing process that is still ongoing.  With his health now on the upswing, Bragg is ready for physio and rehab; proceeds from the concert will help with mobility modifications to his home.  
While recovery obstacles have been plenty, they have not dampened Mark's spirit—he is still his saucy, sassy and snappy self. "I can't believe the amount of support I've received from so many communities I've been involved with through the years, and the overwhelming amount of well wishes that have come my way," Bragg said. "My heart is bursting.  The Bragg-aroo show is fuel for my fire."
Musicians and creatives from around the province and beyond have reached out to support Bragg's recovery. His innate ability to turn a witty phrase into a great story as well as his unending capacity to welcome endless people into his orbit have cemented his integral role in the Atlantic arts scene. The format for Bragg-aroo will echo the many tribute shows Mark has organized over the years. His band The Butchers (Chris Donnelly, Mark Neary, Brad Power, Luke Power) will accompany a rotating array of guests who will each offer up their interpretation of a Bragg song.
DONATE TO BRAGG
All proceeds will help with modifications and equipment for Mark to come home.
Enter the amount you wish to donate
THANK YOU!  Dec 3 and Dec 26 are now BOTH SOLD OUT.   **Tickets for December 27 ON SALE NOW**Please stay tuned here for line-up news, and continue to support by donating above.  
(NST, UTC-03:30) (NST, UTC-03:30)
By popular request, Bragg-Aroo: The Epic Conclusion - a third and final show on December 27 at The Ship. tickets on sale NOW
Confirmed artists (more to be announced) Sherry Ryan, Sean Panting, The Navigators, The Domestics